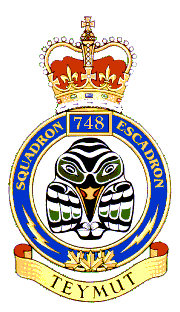 UNIT BADGE
On 1 April 1980, Royal assent was granted for official use of the 748 (Nanaimo) Communication Troop Unit Badge. The badge is based on local native legend and consists of a stylized Raven and motto "TEYMUT."
The badge is symbolic of both the role of the unit and the unit's identification with its host location.
MOTTO
"TEYMUT" Coast Salish for "Being heard at great distance" which is what happens during modern radio communications.
---
Description:
Argent a raven of Kwakiutl design affronté proper.

Significance:
The Kawitshin Indian tribe is native to the inner coast of Vancouver Island, British Columbia. Within the tribe the Snanaimooh represent the Indian people of the Nanaimo area. The word Nanaimo means a meeting or coming together of the five bands of the area, so both the name of the town, where the unit is located, and the area, are steeped in Indian legend and culture.

In the legend of Snanaimooh (Nanaimo) band, the great messenger is the raven, who succeeds where all others fail. The raven is deemed to have special powers which enables him to reach within other animals, bird, and people to draw on their inner strengths to overcome barriers in his path. The raven symbolizes a powerful unifying force somewhat allied to the power of modern communications, without which very little of our modern culture could exist.

Motto:
TEYMUT (To speak or communicate over great distances).

Note:
The research for this badge was conducted with the aid and use of the British Columbia and North West Collection of the Vancouver Island regional Library in Nanaimo, and interview with Mrs. Ellen White of the Nanaimo Snanaimooh Band Office for the oral translation of the legends. Mrs. White, a native Indian, is working on a long-term project with her band and the University of Victoria Linguistics Department to write the local Indian languages, It was she who provided both the spelling and significance of the word TEYMUT and the local raven legend.
---